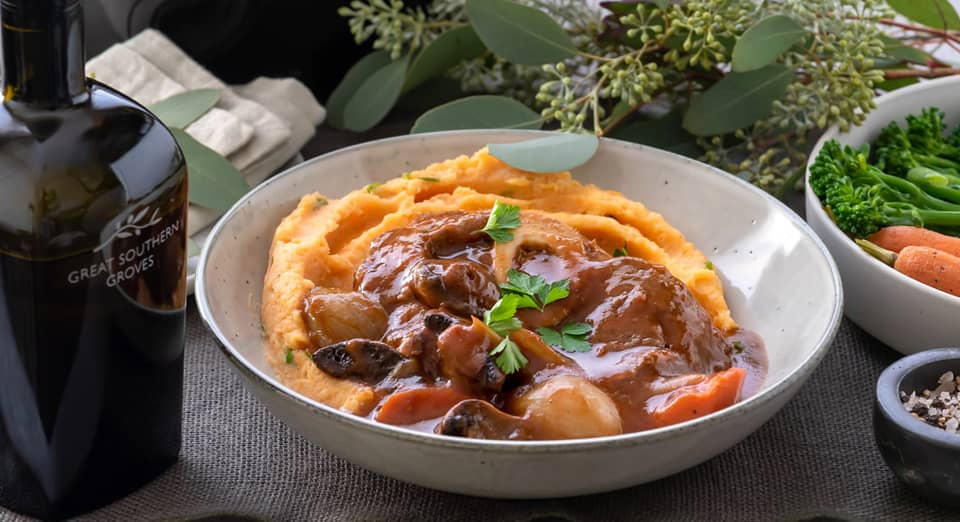 Slow-Cooked Osso Bucco
INGREDIENTS
3 + 1 TBS Great Southern Groves Extra Virgin Olive Oil
1 kg osso bucco pieces (approx. 4-5)
¼ cup plain flour, seasoned well with sea salt & black pepper
1 large onion, peeled and sliced
(or 6-8 pickling onions peeled)
2 medium carrots, peeled and cut into chunks
2 stalks celery, cut into chunks
300g button mushrooms, trimmed and cut in half (leave whole if small)
1 large clove garlic, peeled and crushed
1 tsp paprika
1 TBS tomato paste
½ cup red wine
400g can crushed tomatoes
1 cup beef stock
1 bouquet garni (bay leaf, sprigs of thyme and parsley stalks tied with cotton string)
Sea salt & freshly ground black pepper
TO FINISH:
Corn flour for thickening
Italian flat leaf parsley, roughly chopped
METHOD
Heat 3 TBS Great Southern Groves Extra Virgin Olive Oil in a large heavy frying pan over medium heat.
Coat the osso bucco pieces in the seasoned flour and brown well in frypan. Transfer to the slow cooker bowl.
In the same pan, toss the sliced onion, carrot and celery pieces for a few minutes until starting to soften & caramelise lightly. Add the mushrooms and continue to cook for another minute. Transfer all the vegetables to the slow-cooker bowl.
Add the remaining tablespoon of olive oil to the pan with the crushed garlic, paprika and tomato paste. Cook, stirring constantly for about a minute.
Add the red wine to the tomato paste mixture and cook, stirring constantly for another minute until all the caramelised residue in the pan has been released and the mixture has thickened slightly.
Tip this mixture into the slow cooker bowl, along with the crushed tomatoes, beef stock and bouquet garni. Season lightly with sea salt & freshly ground black pepper.
Cook on HIGH for 4-4½ hours until the meat is tender. Remove bouquet garni.
Mix 1 TBS cornflour with 1½ TBS water and stir until smooth, pour into the osso bucco and stir well to thicken.
​
Taste and adjust seasoning, stir through chopped parsley, and serve.