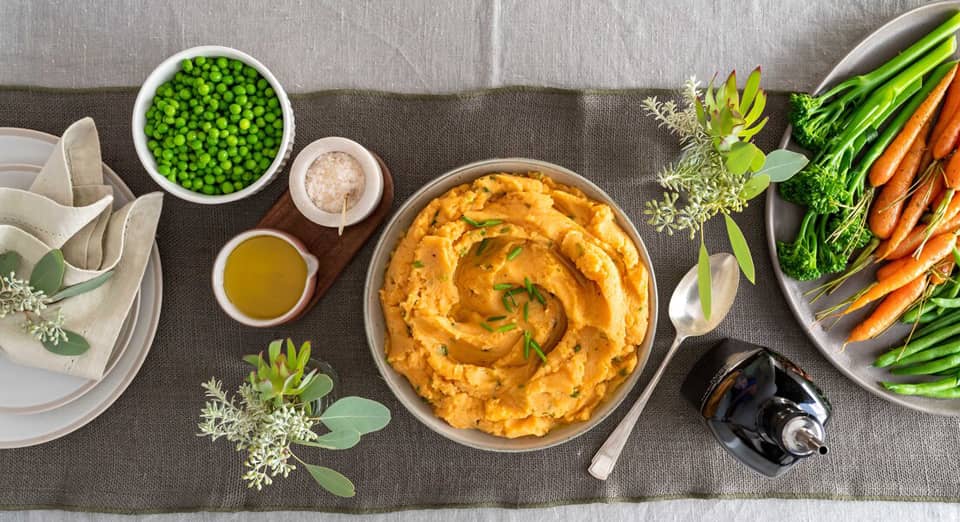 Olive Oil Mash
Serves 4
Lightly infused with garlic and rosemary, this mash should find itself on high rotation in your repertoire over the cooler months as the base for any number of comfort food dishes.
This very flexible recipe for Great Southern Groves Extra Virgin Olive Oil mash uses a ratio of 75% potatoes to 25% sweet potato. You can play with these quantities, but we recommend keeping at least 50% potato in the mix as sweet potato can be very watery when mashed on its own.
Try adding carrot or pumpkin for a change, or just go full potato – you can't really get it wrong!
INGREDIENTS
900g potatoes, peeled and cut into large chunks
300g sweet potatoes, peeled and cut into large chunks
1 large clove garlic, peeled
¾ cup Great Southern Groves Extra Virgin Olive Oil
2 sprigs fresh rosemary
Sea salt & freshly ground black pepper
1 bunch chives, chopped (optional)
METHOD
Put the prepared potatoes and sweet potato pieces in a medium-large pot with the garlic clove, two tsp sea salt, and cover with water.
Cover pot and bring to the boil, then turn to low and simmer potatoes until tender. Meanwhile, gently warm the Great Southern Groves extra virgin olive oil in a small saucepan with the rosemary sprigs and set aside to infuse.
When the potatoes are cooked, drain well, return pan to low heat, and shake gently for a minute or two to dry.
Pass potato mixture through a potato ricer or mash well.
Stir in half a cup of the rosemary-infused oil and season to taste. Add more oil to taste if the mixture is on the dry side.
Stir through the chopped chives if using and serve mash drizzled with a little more flavoured oil.
NOTES
Keep any leftover infused oil covered in the refrigerator for up to a week.