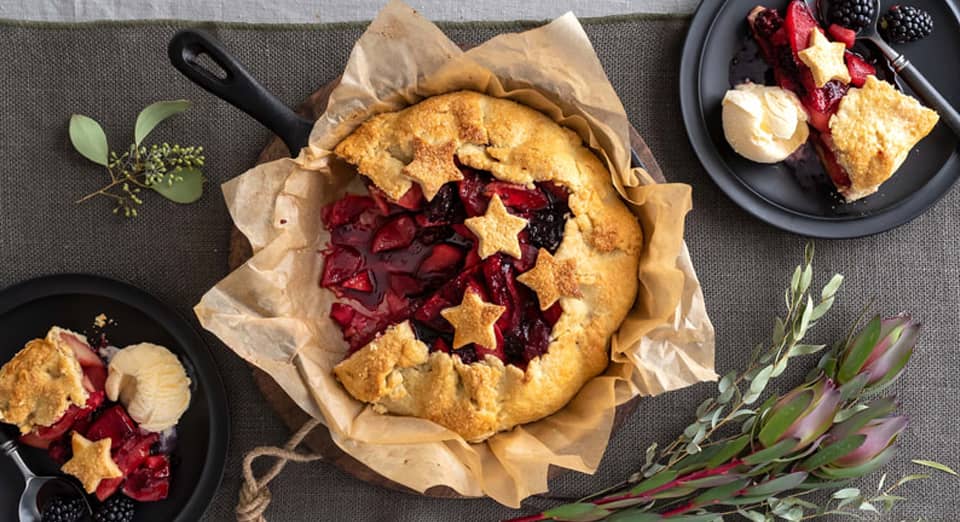 Black Berry & Apple Galette
A delicious alternative to the traditional butter shortcrust, this sweet olive oil pastry has a more-ish biscuity texture and makes a perfect vehicle for the slightly tart spiced apple & blackberry filling.
INGREDIENTS
FOR THE PASTRY
300g plain flour
70g caster sugar
1 tsp baking powder
pinch salt
½ cup Great Southern Groves Extra Virgin Olive Oil
¼ cup cold water
FOR THE FILLING
8 Granny Smith apples, peeled, cored, and sliced (or a mixture of tart apples)
¼ cup brown sugar
zest and juice of a small lemon
¼ tsp ground cinnamon
¼ tsp ground nutmeg
1/8 tsp ground cloves
250g fresh blackberries
(you can use frozen – thaw and drain surplus liquid before cooking)
ASSEMBLY
1 Tb ground almonds
Egg wash: 1 egg, lightly beaten with 1 TBS water
Raw sugar for sprinkling
METHOD
Make the filling first
Place all the ingredients except the blackberries into a medium pot.
Cover and simmer, stirring occasionally until the apples are semi-soft (about ten minutes).
Add the blackberries and cook for a further 2 minutes. Allow to cool.
(Taste and add more sugar if you prefer it sweeter)
To make the pastry
Preheat oven to 180ºC.
Place flour, sugar, baking powder, and salt in a medium bowl.
Add the olive oil and cold water and stir together with a fork (see notes).
Once the dough is starting to come together, use your hands to bring the mixture together then tip it onto the bench and knead lightly until it forms a smooth ball.
Place the pastry between two sheets of baking paper and roll out into a circle measuring approx. 30-35cm in diameter.
Remove top sheet of baking paper and lift pastry on the bottom sheet of baking paper into a cast iron pan (see notes.)
Prick the pastry base all over with a fork, then scatter over the ground almonds.
Place the apple & blackberry filling evenly into the dish and fold the edges of the pastry over to make a border. (If the pastry breaks, just patch it together – it's not meant to look perfect.)
Brush the pastry border with egg wash and sprinkle the whole galette with raw sugar.
Bake in the preheated oven for 40-45 minutes until golden.
Serve warm straight from the pan with cream or ice cream – or both!
NOTES
Use any kind of dark berry in place of blackberries.
Counter-intuitively, it is recommended that you make this pastry by hand (using a fork) rather than in a food processor – it's easier!
It is delicate to handle, but if it does break, just patch your galette with the broken pieces – it all adds to the rustic look!
We baked our galette in a cast iron frying pan with a 20cm diameter base – it makes it easy to handle and keeps everything nicely contained. You can always make it straight on to a baking paper-lined baking sheet if you prefer.
Optional – cut stars from re-rolled pastry scraps for decoration.