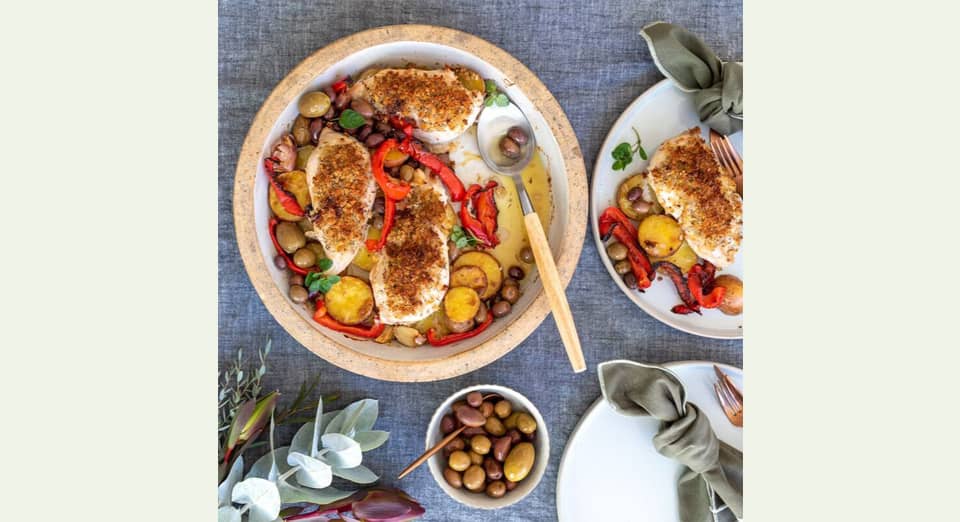 Chicken & Olive Tray Bake
INGREDIENTS
150g Great Southern Groves Mixed Olives in brine
5 TBS Great Southern Groves Extra Virgin Olive Oil
3- 4 Prince of Orange (or other red variety) potatoes, sliced into 1 cm thick rounds
1 medium red capsicum, cored and sliced into 1cm strips
4 small chicken breasts, trimmed
3 cloves garlic, peeled and squashed
CRUMB
1 cup breadcrumbs (utilise leftover stale bread)
15g Parmesan, finely grated
2 tsp thyme, dried
2 tsp Great Southern Groves Extra Virgin Olive Oil
½ tsp salt
METHOD
Preheat oven to 200°C fan force.
Drain the olives, rinse under water and pat dry with paper towel before rolling them through a tablespoon of olive oil and set aside.
Drizzle olive oil across the base of a large roasting tray.
Lay potatoes out evenly, top evenly with red capsicum season with salt and pepper and drizzle with olive oil.
Lay your chicken breast on top of the potato and capsicum and season.
Add garlic dotted around the dish. Combine all crumb ingredients in a small bowl and toss to evenly coat with oil.
Top each chicken breast with a quarter of the crumb mix, pressing down gently.
Add olives evenly across the dish.
Cook for 35-40 minutes or until the crumb is golden and the chicken has cooked through.
Serve with a crisp green salad.