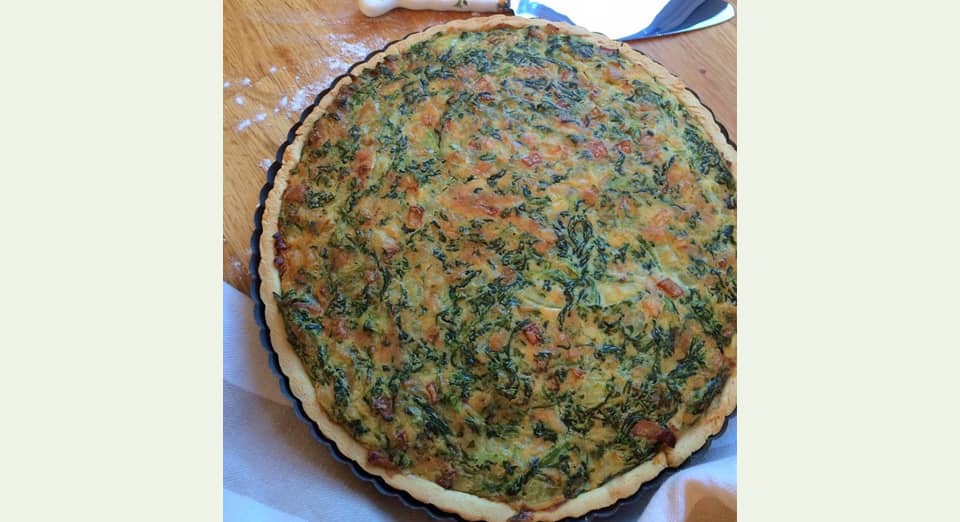 Spinach Quiche With Olive Oil Pastry
OLIVE OIL PASTRY INGREDIENTS
400g plain flour
60g cold butter chopped
60mls Great Southern Groves Extra Virgin Olive Oil
110mls cold water
FILLING INGREDIENTS
1 onion chopped
2 long rashers of bacon chopped
2 eggs (preferably home grown or free range)
3/4 cup cream
1 large bunch chopped wilted spinach (just over 1 cup) or thawed box of frozen chopped spinach
1/2 cup grated cheddar cheese
pinch of nutmeg
METHOD (PASTRY)
Blitz flour and butter in food processor. Slowly add olive oil and cold water until the dough comes together and isn't too sticky (depending on your flour you may need to use less or more water)
Turn dough out onto bench and knead until it forms a smooth ball. Cover in cling film and rest in fridge for 30 minutes. Preheat oven to 200°C
Roll out dough to roughly 1cm thickness and line a non stick flan tray (26cm with a removable base). Push into edges and corners well. If there are any gaps or holes, press in some of the excess dough. Trim.
Line the pastry case with baking paper and blind bake for 20 minutes. Remove blind weights and baking paper. Bake for a further 5 minutes.
METHOD (FILLING)
While your pastry case is baking... prepare your filling.
If using fresh spinach or silverbeet, wash a large bunch, remove stems and place in large colander. Pour over boiling water to wilt, drain well and then chop finely. (if using frozen spinach, thaw and drain as much water off the spinach as possible).
Cook onion and bacon in a small amount of olive oil until browned, set aside.
Beat eggs and cream together. Add cooked onion/bacon, spinach, nutmeg and cheese. Mix well.
Pour filling mixture into cooked pastry case and return to oven. Turn oven down to 190oC and bake for a further 25-30 minutes until the top is golden.
NOTE
If you don't have blind baking weights, use uncooked rice.
RECIPE REFERENCE
The olive oil pastry recipe is from a wonderful cook Julia, who uses lots of olive oil in her recipes. If you would like to see more then visit her website www.julia-ostro.com