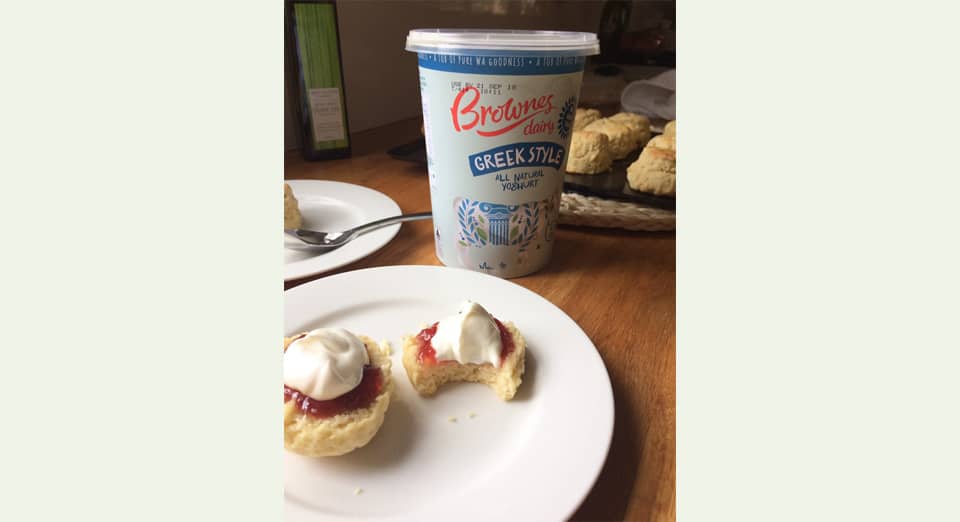 Scones
INGREDIENTS
2 cups plain flour
4 tsp baking powder
1 TBS caster sugar
1 egg
1/4 cup Great Southern Groves Extra Virgin Olive Oil
1/3 cup milk
1/4 warm water
METHOD
Preheat oven to 200°C fan forced
Sift all dry ingredients into mixing bowl.
Measure all wet ingredients into separate jug or bowl including egg. Whisk until combined.
Add wet ingredients into dry and mix together with butter knife until just combined. Add a little more flour or milk depending on your mix to get the consistency just right. Don't over mix.
Tip mixture onto a lightly floured surface. Gently flatten the dough to roughly 3cm thickness. The less you handle your dough, the lighter and fluffier your scones will be.
Cut out scones with a 5cm biscuit or scone cutter.
Place on greased baking tray with only a 1cm gap between. Brush with a little milk and bake for 10-12 minutes. Scones should be browned on top and sound hollow when you tap them.
Serve with butter, jam and cream. For those a little more health conscious, try serving your scones with Greek Yogurt instead of the cream (only 1/3 of the fat).
BAKING TIPS
Always mix your scones with a butter knife not a spoon - Nannas tip for perfect light scones
Handle the dough as little and lightly as possible to keep all the air in.
Don't twist your cutter. Twisting the cutter tends to make the scones rise lop-sided.