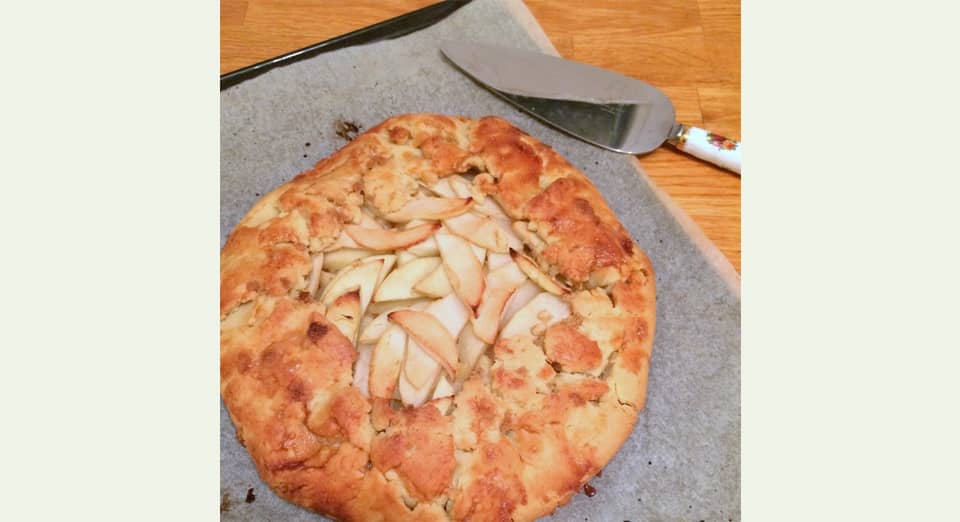 Rustic Apple Pie
This pastry is very short and crumbly, but super easy to make and VERY delicious. You can adapt the filling to include any fruit you like. Try it with berries, pears, banana with caramel, or even fruit with hazelnut spread.
INGREDIENTS
Sweet Short Crust Pastry
1 1/2 cups plain flour
1/3 cup icing sugar
1/4 cup plus 2 TBS Great Southern Groves WA Extra Virgin Olive Oil
2-3 TBS cold water
Filling
3 Granny Smith apples
1 egg separated
2 TBS brown sugar
extra brown or demerara sugar for sprinkling
METHOD
Preheat oven to 190°C
Pastry
Place flour, sugar and olive oil in a food processor. Blitz until it starts to come together. Slowly add the water until it mostly comes together. Tip pastry out onto floured bench and continue to knead until it comes together. If pastry is too wet or dry, add small amounts of water or flour accordingly.
Form into a disc, wrap in plastic wrap and place in fridge while preparing filling.
Filling
Peel, core and thinly slice apples.
Remove pastry from fridge and roll out on grease proof paper into a circle, roughly 30cm wide.
Brush pastry with egg yolk, leaving a 5cm border. Sprinkle yolk with brown sugar and then layer on apple slices. You can be neat or as rustic as you like with your apple layering.
Carefully fold edges of the pastry in, leaving some of the apples showing (as in the picture). If the pastry is crumbly, use the paper to help fold it over. If it breaks or pieces come away, just patch it or press it together.
Slide baking paper with pie on, carefully into a baking tray. Brush pastry with egg white and then sprinkle whole pie with brown or Demerara sugar.
Bake in oven for 15 minutes, then turn oven down to 180 degrees and bake for a further 15 minutes. Turn your baking tray during cooking to ensure even cooking and browning.
Serve warm with cream or ice cream.
RECIPE REFERENCE
This recipe has been adapted from "Free-form apple pie" on Taste.com.au. Recipe originally appeared in SuperFood Ideas. Recipe has been adapted, tried and tested using olive oil.