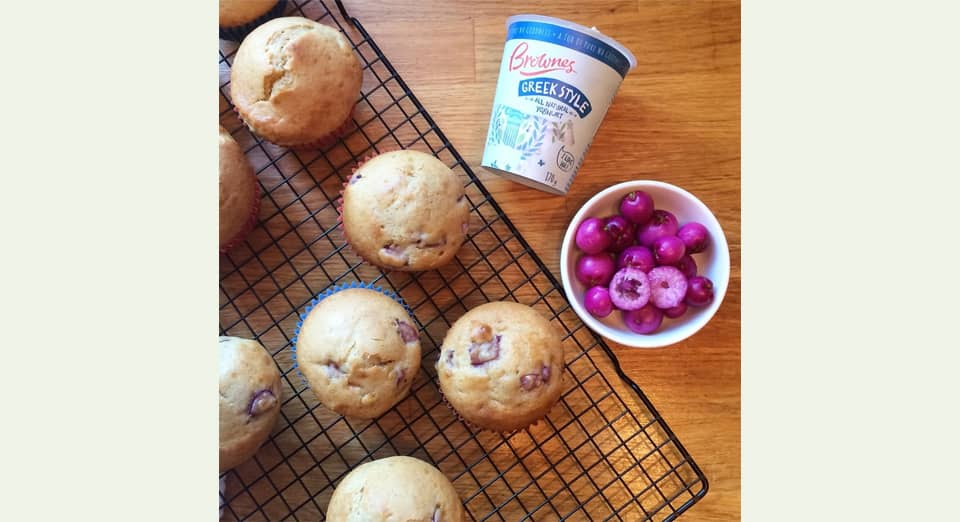 Lilly Pilly, Yoghurt And Banana Muffins
INGREDIENTS
2 Cups SR Flour
3/4 Cup brown sugar
2 ripe bananas mashed
1 egg lightly beaten
1 175g tup Brownes natural yoghurt (3/4 cup)
3 TBS Great Southern Groves Extra Virgin Olive Oil
3 TBS milk
1 cup Lilly Pilly Fruit - seeds removed and quartered
METHOD
Preheat oven to 180°C. Line a 12 whole muffin pan with patty pans or grease proof paper.
Combine flour and sugar in a bowl. Add mashed banana, egg, yoghurt, olive oil and milk.
Stir with wooden spoon until it combines to form a smooth mixture (if the mixture is a little dry, add one more TBS of milk).
Add chopped Lilly Pillies and stir gently until just combined.
Spoon the mixture evenly into prepared patty pan cases.
Bake for 25 minutes and turn a lovely golden brown. Tops should spring back when cooked properly.
Cool on wire rack.