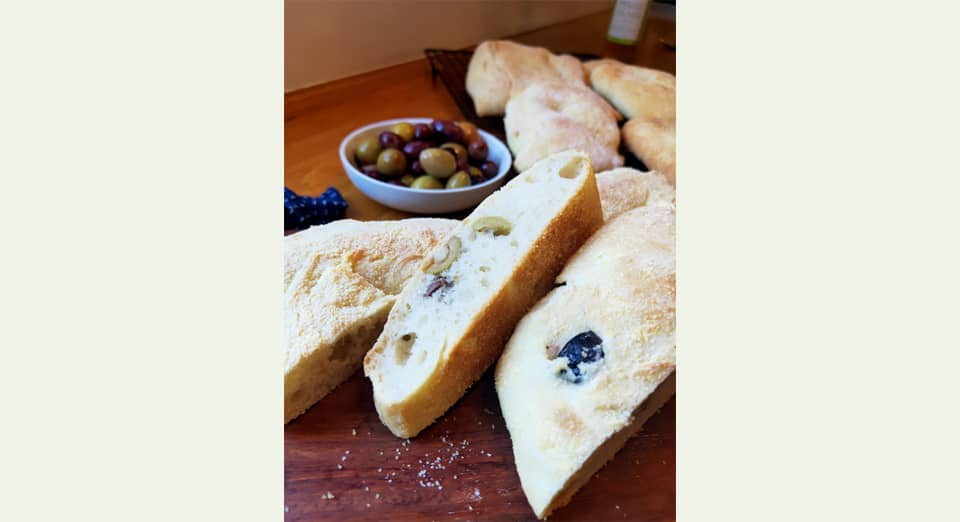 Olive Ciabatta Bread
INGREDIENTS
500g plain flour plus extra for dusting
2 tsp Salt
3 tsp dried yeast
2 TBS Great Southern Groves Olive Oil plus extra for greasing.
400ml tepid water
2 cups pitted and quartered olives (Great Southern Groves mixed)
2 TBS fine polenta or semolina
METHOD
Set up your mixing bowl with the dough hooks. If you don't have a mixer with dough hooks then a bit of elbow grease will also work.
Put flour in your bowl. Add salt to one side and yeast to the other. Make a well in the middle and add three quarters of the water. Using your mixer or a spoon, slowly bring the mix together. Once it has started to form a dough, add the rest of your water and continue mixing.
Turn your mixing speed up to high or turn dough out onto work surface and knead for 8-10 minutes. The dough should be easy to stretch when pulled. Turn the mixer to low and add the olive oil. Once the olive oil is mixed in, add in chopped olives*
Once the olives are evenly distributed through the dough, you can stop mixing/ kneading.
Liberally grease a large bowl or plastic container (high sides) with more Extra Virgin Olive Oil. Place your dough in container and cover with plastic wrap that has also been greased with olive oil.
Place container in a warm room and allow to triple in size.
While dough is rising, preheat your oven to 200°C fan force. Grease one large or two smaller trays or line with baking paper.
On your bench combine polenta or semolina with about the same amount of flour. Spread this out on your work bench ready for you to tip dough onto.
Carefully tip your dough onto the floured surface. You don't want to lose any of the air from the dough so you must treat the dough with a really light touch. Carefully stretch out the dough into a large rectangle and about 2 cm thick. Sprinke the top and sides of the dough with flour and semolina from the bench. Cut the dough using a sharp knife into square or strips depending on whether you want little rolls or large ciabatta sized loaves.
Carefully lift the dough portions and place them on the baking tray, spaced about 5cm apart.
Bake for 12-15 minutes or until golden and sound hollow when tapped.
* If only half your family likes olives, you can split your dough at this stage and only add olives to half, keeping a batch plain.