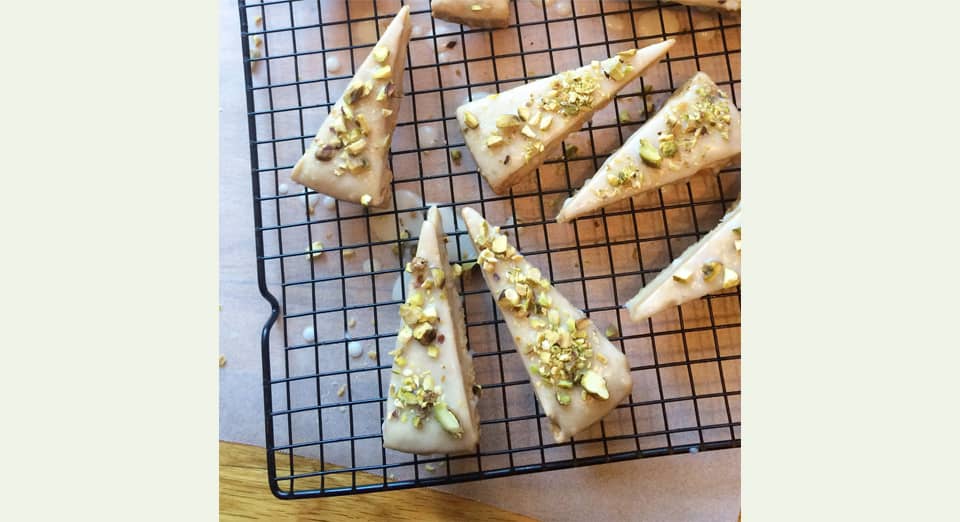 Lemon, Pistachio Shortbread Slice
INGREDIENTS
BASE
3/4 cup Great Southern Groves Olive Oil
3/4 cup icing sugar
1 tsp lemon rind
2 cups plain flour
TOPPING
1/4 cup unsalted, shelled pistachios chopped roughly
3 TBS lemon juice (about 1 lemon)
1 1/12 cup icing sugar
METHOD
Preheat oven to 150°C (fan forced)
Put olive oil and lemon rind in food processor and blend for 1-2 minutes. Add icing sugar and blend for a further 2 minutes. It will looks smooth and creamy.
Place flour into a bowl. Pour in the olive oil mixture, making sure to scrape out all of the contents of the food processor bowl. Mix well until the dough forms a soft ball.
Press dough into a 18cm spring form cake pan, smoothing the top flat with a spoon.
Place in fridge to firm up for 30 minutes.
After 30 minutes, remove pan from the fridge. With a sharp knife, score the base with a sharp knife into wedges... we did 16. Prick each wedge with a fork.
Place in the oven and bake for 45-50 minutes.
Once baked, allow to cool in the pan. Carefully remove from pan, place on a chopping board and cut along lines previously made with a sharp knife. The base is quite crumbly so be careful.
To make the topping, combine icing sugar and lemon juice until smooth. Take cooled biscuit wedges and dip the top into the icing mixture, allowing excess to drip off. Place on cooling rack (with baking paper underneath to catch drips). sprinkle with chopped pistachios. Repeat until all wedges are iced and topped with nuts. Allow to set.
NOTE: If you are allergic to nuts, replace pistachios with shredded coconut or leave plain.