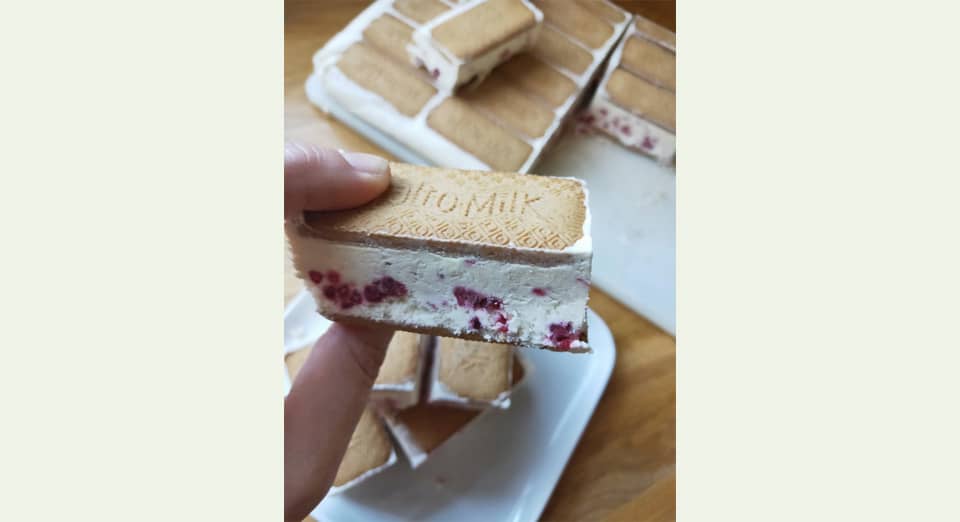 Ice Cream Sandwiches
INGREDIENTS
600mls whipping cream
395mls (tin) sweetened condensed milk
2 packets MALT-O-MILK biscuits
Plus any flavourings you might like - see note below for suggestions
METHOD
Line a baking tray or lamington tin with enough glad wrap to cover the bottom, sides and then cover the top. Try not to make too many edges sticking up and if more than one piece is needed then overlap. Line the tray with one packet of biscuits (you may not use the whole packet).
Beat cream and sweetened condense milk in a large bowl until thickened. Pour onto the top of biscuits in tray. Smooth out evenly. Place remaining packet of biscuits on top in roughly the same configuration. Pull the glad wrap up and over to over top.
Place in freezer for at lease 6 hours. When solid, cut with large knife in between biscuits… enjoy and try to stop at one.
You can add what ever flavours you like to the cream mix before scooping into the tray. Try and of these chopped up:
- Chocolate Flake
- Crunchie
- Mars Bar
- Peppermint Crisp
- Oreo Cookies
- Any fruit like raspberries (shown in this picture), mango, passionfruit, strawberries
- Caramel or chocolate sauce swirled though.
- Dried fruit and nuts
Options are endless, if you have seen it in an icecream, you can add it to your own.