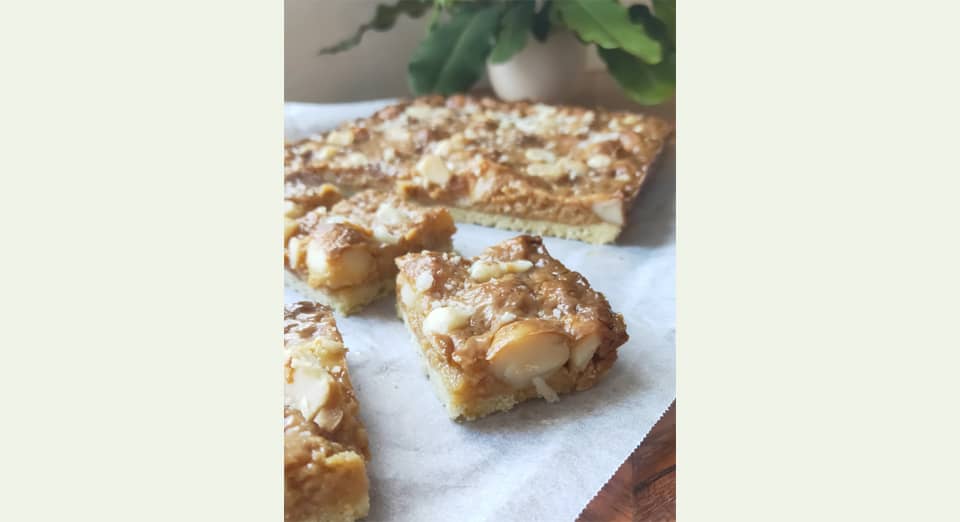 Honey Macadamia Slice
INGREDIENTS
Base
3 TBS Great Southern Groves Extra Virgin Olive Oil
1 ¼ cup plain flour
¼ cup caster sugar
1 egg yolk
2-3 TBS chilled water
Top
50g butter
1 can Sweetened Condensed Milk (395g)
3 TBS South West honey
120 g Macadamias (keep a small amount to sprinkle over top)
METHOD
Preheat oven to 180oC. Line a 30cm x 20cm slice tin with baking paper.
In your food processor (or in a bowl) combine the Extra Virgin Olive Oil, flour and sugar. Process or rub together until it resembles fine breadcrumbs. Add in egg yolk and 2-3 TBS cold water. Add the water a tablespoon at a time until the mixture comes together. Once the dough can be pressed together and not fall apart you have added enough water.
Tip into prepared slice tin and even spread the mix (it may still look a little crumbly). Then press with your fingers into the tin to form an even thickness. Bake for 15 minutes or until just golden at the edges.
While the base is cooking you can prepare the topping. Melt butter on low heat in a heavy based saucepan. Add in Sweetened Condensed Milk and stir. Turn up the heat to medium/hot and stir constantly for roughly 5 minutes. It will hit the thickening point quite suddenly and you will need to stir quite rapidly to maintain a thick but smooth consistency (I used a whisk). Once thickened, remove from heat and continue to stir for 30 seconds. Add in honey and macadamias and stir until combined. Allow for topping mixture to cool slightly until the base has finished baking.
Take base from oven and pour topping evenly over the based – making sure the nuts are evenly distributed. Sprinkle the small amount of nuts you kept out over the top, pressing any large pieces in slightly.
Bake in the oven for a further 15 - 20 minutes. The top should be a dark golden colour. Take slice from oven and allow to cool completely before slicing into squares.