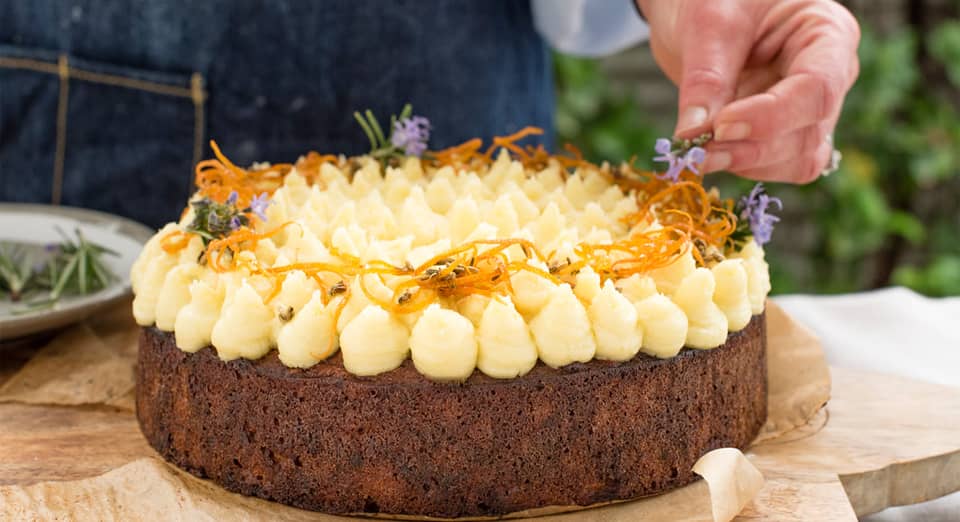 Tuscan Carrot Cake
INGREDIENTS
DRY
175g flour
175g almond meal
150g brown sugar
4 tsp baking powder
4 tsp cinnamon
1/2 tsp nutmeg
200g local walnuts, toasted (8 mins 180C) chopped
3 tsp fennel seed, lightly toasted
1/2 tsp salt
WET
3 eggs
1/2 cup GSG Tuscan style EVOO
150g raw honey
Zest and juice of an orange
2 tsp vanilla extract
2 tbsp rosemary leaves, finely chopped
500g carrot, grated
METHOD
Preheat oven to 170C fan forced.
Mix dry ingredients until well combined.
Whisk together wet ingredients then stir through the carrot.
Fold wet mix through the dry mix until combined.
Place in a lined 25cm round baking tin and even out the top.
Cook for around 45 mins, or until a skewer comes out of the cake clean.
Cool in the tin for 10 mins before turning out onto a cake rack to completely cool.
- ICING -
ORANGE & FENNEL INFUSED OLIVE OIL
½ cup Great Southern Groves Tuscan style olive oil
Rind of an orange julienned or zested into long strips
3tsp fennel seeds
ORANGE OIL ICING
180g cream cheese, softened
120g infused olive oil (see above)
450g icing sugar, sifted
½ tsp vanilla extract
METHOD
INFUSED OIL
Place all ingredients into a small saucepan and bring to a high temperature and when the rind begins to spit and curl, take the pan off the heat and set aside to cool.
When ready to use, strain the orange and fennel off the oil, keeping both oil and orange and fennel.
ORANGE OIL ICING
Add cream cheese to sifted icing sugar and whisk.
Slowly add the oil and vanilla and continue to whisk until smooth. Refrigerate until ready to use.
Pipe or spread onto your cooled cake and top with the orange rind and fennel seeds, as well as flowers and baby sprigs of rosemary.