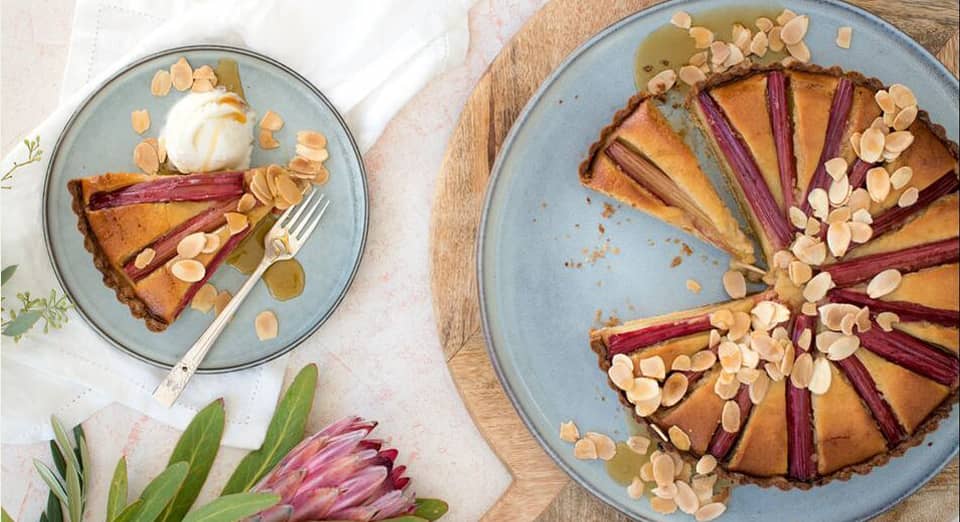 Rhubarb & Honey Tart
INGREDIENTS
1 portion olive oil shortcrust pastry - see separate recipe 'Sweet Shortcrust Pastry'
1 cup Greek or natural yoghurt
½ cup Great Southern Groves Extra Virgin Olive Oil
3 eggs
¼ cup honey
½ cup caster sugar
1 cup SR flour
1 cup ground almonds
750g rhubarb, trimmed and sliced to fit your tin
Another ¼ cup honey
METHOD
Preheat the oven to 220°C.
Roll out pastry to approx 40cm round
Grease a 25cm round tart tin and line with pastry, fix and splits with extra pastry ofF cuts and trim to create a neat edge.
Line the pastry with baking paper pushed down tightly.
Place in the oven for 15 minutes or until the pastry is starting to become golden. Remove the baking paper.
Turn oven down to 170°C fan forced and allow to cool.
Whisk together yoghurt, olive oil eggs and honey in a bowl.
Add in flour, sugar and ground almonds and mix until well combined.
Pour mix into the pastry shell and top with sliced rhubarb. We used a double layer as a generous serve of rhubarb offsets the sweet frangipane perfectly.
Bake for 35 - 40 minutes or until the top is golden and cake is set.
Brush with warmed honey for gloss