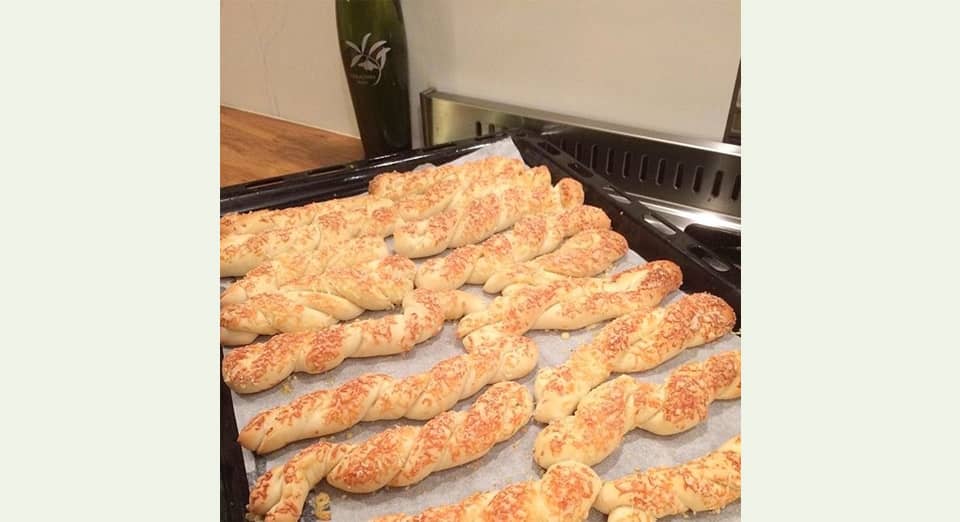 Soft Bread Sticks
Preheat oven to 180 degrees
In a large jug or bowl place the following:
1 cup warm water
2 TBS sugar
Stir until sugar is dissolved and then add;
1/4 cup Great Southern Groves WA olive oil
1 x 7gm sachet yeast.
Stir and leave for 10 minutes in warm place to grow.
In a large bowl add:
3 cups of plain flour (bread flour if possible)
1 tsp salt
Yeast/water/oil mix
Stir well until combined then knead for 10 minutes (or place in mixing bowl with bread hooks for 10 minutes).
Roll out onto floured surface to roughly 30cm x 20cm
Cut into 2cm strips. Take each strip and stretch lightly, fold over and twist.
Place each twist onto large lined or greased baking tray. Leave in warm place to rise for 20-25 minuted. Grate one cup of fresh parmesan cheese.
Once risen slightly, brush each stick liberally with Cooladerra Farm Extra Virgin Olive Oil. Take each stick and carefully dip oiled side into parmesan and return, parmesan side up, to the tray (or sprinkle over if you prefer).
Bake for 10 - 15 minutes or until golden.
NOTE: You can add different flavours to your bread sticks such as; chilli flakes, garlic salt, herbs or just sprinkle with flake salt. These are wonderful warm with your favourite soup.
WA olive oil, Perth olive oil :)